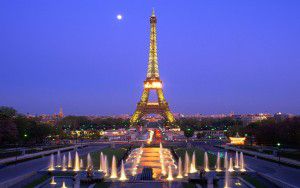 Our own Ash Crawford has been in Paris for the past two weeks representing Jupiter Ambrosia Productions at the Hub Culture Pavilion during the Climate Summit. At Hub Culture, Ash has been managing several projects and mini events in the space as well as acting as a knowledge broker, connecting stories and media at the pavilion.
Ash Crawford outside Hub Culture's Paris Pavilion.
Hub Culture is a global collaboration platform. At the Paris Pavilion for COP21, the United Nations meeting on climate change, the Pavilion is in operation daily from November 24 to December 20 located in the central area of Tuileries in Paris.
A working space.
The space is set to offer co-working facilities, events, meeting space and smaller roundtables focused on environmental issues, with a calendar of events and activities managed through the Hub Culture Paris online interface.
Meeting and working space.
The media center.
Leaders from non-profits and the tech world are invited to collaborate with Hub Culture on a set of activities focused on climate innovation at the Pavilion. Project partners include XPRIZE Foundation, EIT Climate-KIC, People + Planet Project, Ven and Inspirelle.
Hub Culture's social media center will broadcast to HubLive.tv from the Pavilion during the course of its operation, and Edelman is partnering to build a newsroom to share news coming from COP21.
Tags: climate summit, paris